What You'll Need
Here is a list of all the things you'll need to create your bumble bee. If you are based in the UK, I've provided you with links below to where you can purchase all of these items. It is important to note that you will require an inkjet printer to print out a copy of the wings template and access to an oven to bake the polymer clay.
If you haven't done so already, you may find it to be more convenient to purchase the Sewing Box, by clicking here (subject to availability). I've created the Sewing Box to use in conjunction with this course, it includes most of the essential supplies you'll need (including 2 x pairs of printed acetate wings), and there are enough materials to create 2 x Bumble Bees.
Calico | Pencil | Pins | Milliners Needle 1 | White Cotton | Black Cotton | Scissors | Toy Stuffing | White Faux Fur | Black Faux Fur | Yellow Faux Fur | 1mm Gauge Silver Wire | 0.5mm Gauge Black Wire | Flat Nose Pliers | Wire Cutters | Gel Super Glue | Black Yarn/Wool | Ruler | Tooth Brush | Inkjet Acetate Sheets | Dotting Sculpting Tool | Pick Sculpting Tool | Black Polymer Clay | Baking Powder | Black Acrylic Paint | Paint Brush | Gloss Mod Podge | Chalk Pastels | Craft Knife | Tracing Paper | Inkjet Printer
PLEASE NOTE THAT SOME OF THESE LINKS ARE AFFILIATE LINKS
---
Please don't feel obliged to purchase every item on this list. Please feel free to substitute materials and explore and experiment with different art supplies to best suit your preferred methods and budget.
---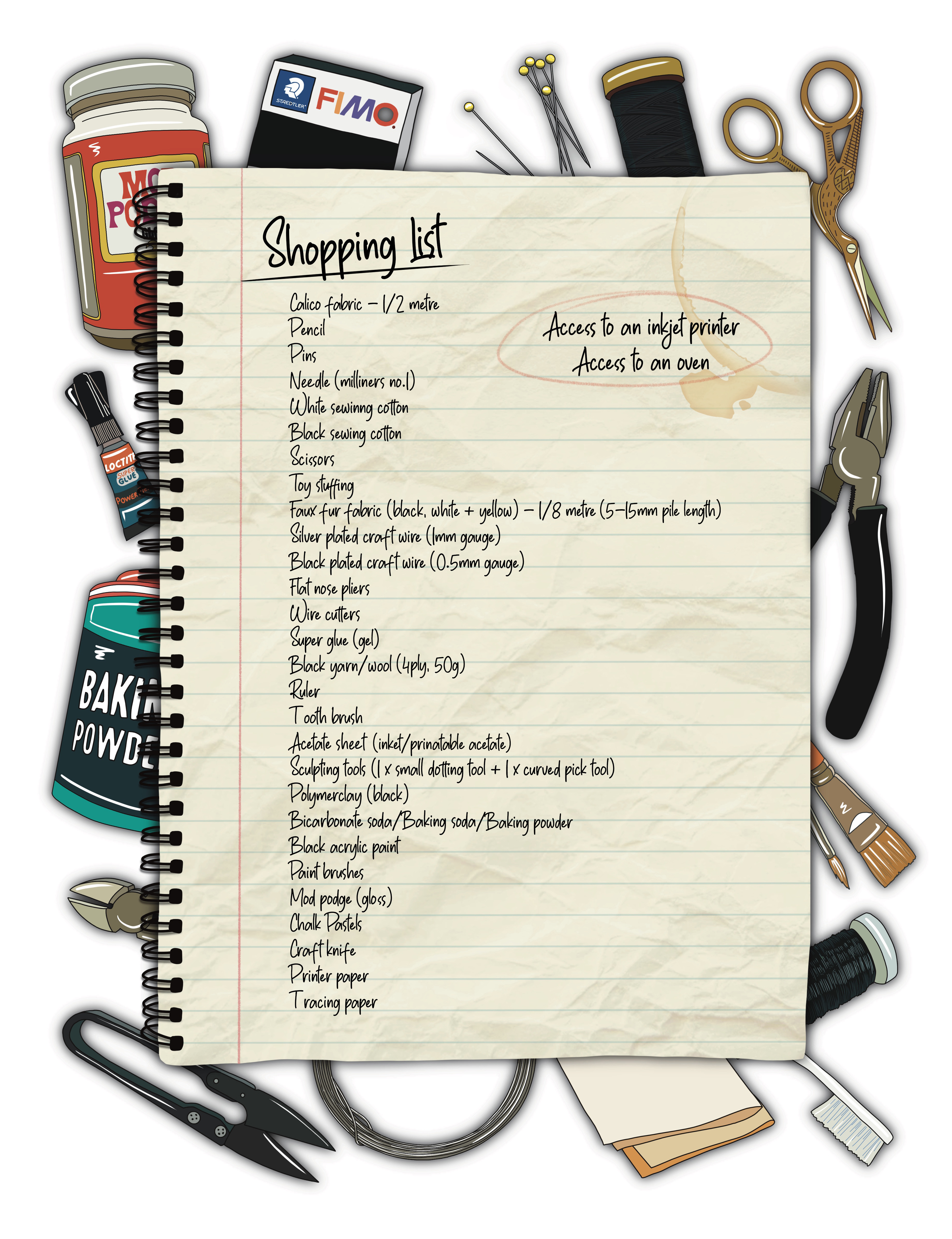 Complete and Continue